The Medicare system can be confusing.
Medicare is a health insurance program designed for people age 65 and up. Any U.S. Citizen or permanent resident of at least 5 years is eligible. Depending on your work history and any social security benefits, you may automatically receive some level of Medicare when you retire.
The question is: do you know what your plan covers and what your options are?
Having only basic Medicare could land you in serious trouble with the costs of medical care and prescription drugs on the rise. The good news is that there are various Medicare supplement plans available.
This post explores what your Medicare plan options are when you turn 65.
What Basic Medicare Do I Get When I Turn 65?
All eligible U.S. residents who worked at least 10 years and paid Medicare taxes will receive premium-free Medicare Part A at age 65. Those who did not buy into Medicare during their working years will have to pay a monthly premium.
Medicare Part A covers in-hospital care only, and there is a deductible for each benefit period. For 2019 the deductible for inpatient hospital care is $1,364.
Some social security benefits also enroll you in Medicare Part B, but you will always have to pay a monthly premium for Part B. Medicare Part B covers outpatient care and any drugs administered by a professional as a part of treatment.
These two parts of Medicare represent government plans. Neither Medicare Part A or Part B cover vision, dental, or prescription drugs. To ensure you are covered for any emergency that arises, you need to look into private supplementary Medicare plans.
What Types of Medicare Supplement Plans Are There?
There are a vast number of private coverage insurance plans available. They all differ slightly in the coverage they offer, but their plans fall under specific plan types.
Medicare Part C (Medicare Advantage)
Medicare Part C is the private version of Medicare that includes Part A and Part B, and also many other benefits. Medicare Part C will include prescription drug coverage, and many plans cover some level of vision, dental, hearing care, and emergency travel coverage.
Each Medicare Advantage provider offers different benefits, premiums, and deductibles. Make sure you compare different plans and providers if you want to go this route.
Medicare Part D
Those who don't want the full scope of Part C but do want prescription drug coverage can enroll in Part D. Along with paying a monthly premium, each prescription is subject to copayments or coinsurance.
To learn more about how Medicare Part D pricing works, read our related post: Medicare Part B vs. Part D: Choosing Your Best Prescription Drug Plan Coverage.
Medigap Plans (Medicare Supplement)
Medigap is an alternative to Medicare Advantage – you cannot be enrolled in both at the same time. You must pay for Medigap plans in addition to your Part A, B or D coverage.
Medigap plans are designed to cover much of the out-of-pocket costs incurred by Medicare Parts A, B, and D. This plan does not cover many of the benefits in Medicare Advantage such as dental, vision or hearing – but is cheaper as a result.
While Medigap is privatized, the benefits offered by each part is standardized across most of the United States.
This chart explains what the various Medigap plans cover: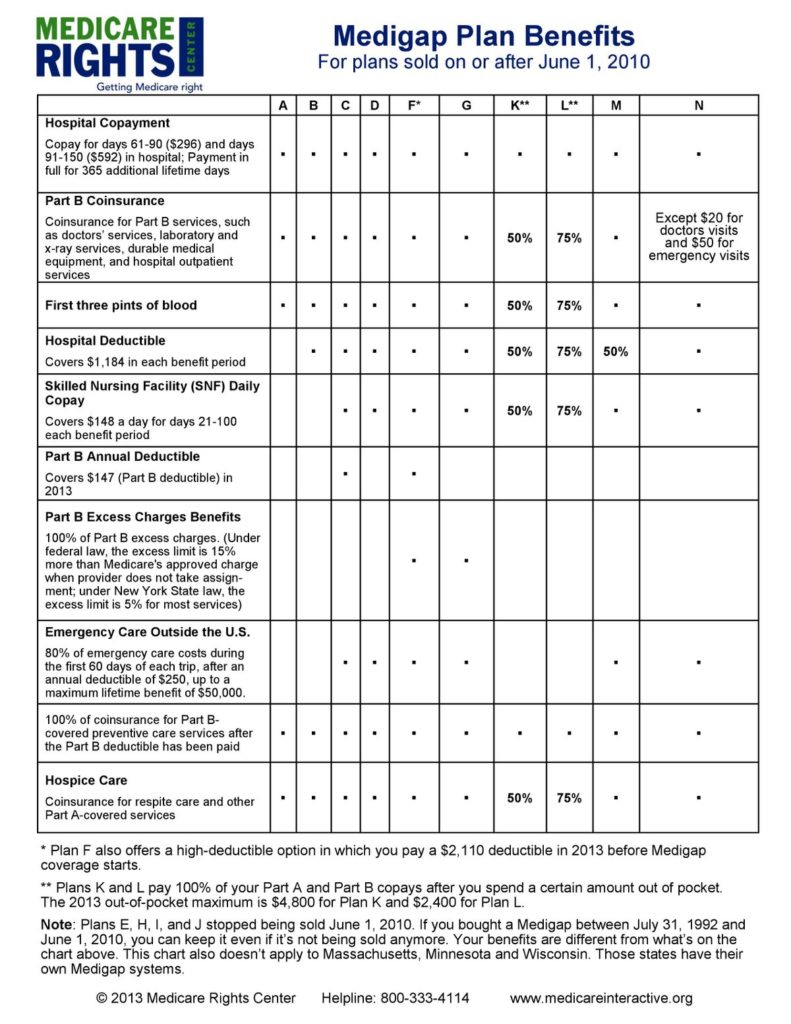 If you live in Massachusetts, Minnesota or Wisconsin they have their own versions of Medigap.
Which Medicare Supplement Plan is Right For Me?
As you can see, Medicare and Medigap is a many-headed beast.
Choosing the right coverage for you means striking a balance between how much coverage you want versus how much you can afford in premiums.
At Call4SeniorSavings, we are dedicated to helping seniors find the best Medicare and Medigap plans within their budget. we will discuss your finances with you and provide you with different plans and providers that provide you the coverage you want at a price you can afford.
To get your free consultation with our Medicare experts today, contact us.